Area Attractions
Recreation
Fertile hosts an amazing line-up of recreation opportunities for the visitor. Their golf course is outstanding and the gardens at Bergeson Nursery are breathtaking to behold in July. Hiking in the Sandhill recreation trail area is a relaxing way to spend the day as a family. The Agassiz Environmental Learning Center is known for winter recreation since they have fantastic cross country ski trails throughout the sandhills and the local snowmobile club is very proud of their beautiful well groomed trails. They have a variety of nice parks and are adjacent to several nationally known wildlife and birding areas. We also take pride in the recreational enjoyment of the Sand Hill River. Kayakers and paddlers from the surrounding communities come to Fertile to explore the inside edition of the Sand Hills from the perspective of the river. We can't forget the big event of each summer, the Polk County Fair! So what are you waiting for, come visit!
---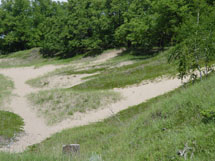 Located one mile West of Fertile, this self-guided nature trail highlighting the unique sand dune formations, oak savanna and native prairie of remnant glacial Lake Agassiz will take your breath away. Ten miles of hiking and cross country ski trails along the Sand Hill River. Trail maps available at the Fertile Community Center and on-site. Bathroom at the Center. Some primitive camping available.
School District
The Fertile-
Beltrami Public School provides outstanding opportunities for students in the areas of academic and extra-curricular activities. We have a K-12 student enrollment of 460 students; our staffing provides excellent student to staff ratios. The strengths of our small school are found in student-staff relationships, a forward thinking school board, and extremely supportive community. There are many initiatives moving forward at this time; ranging from after school programs, Lexile focused reading instruction, a student laptop program, Smartboard technology, student podcasts, webcasts, and even College-in-the-High School (last year our students completed over 112 college credits). A voter approved levy provides for financial stability to 2014! You are welcome any time to visit our school and see Fertile-Beltrami staff and students in action! Feel free to contact the adminstration!
Brian Clarke (Superintendent)
Nathaniel Messick (Principal)
Garnet Asmundson (Dean of Students)
Airport Information
City of Fertile Airport
The City of Fertile Airport (D14) is located one mile northwest of Fertile. It is owned and operated by the City of Fertile.
100LL fuel is available 24 hours a day with a credit card. Current fuel price is $5.79 per gallon.
Further airport information is availabe at www.airnav.com/airport/D14.
Organizations
Community Club
Jeannie Erickson (218) 945-3290
Senora Pederson (218) 945-6692
Fair Meadow Foundation
Angie Leiting
(218) 945-6194
Fertile-Beltrami Community Fund
Kylie Strem
218-280-3738
Lion's Club
Norma Erickson
(218) 945-3237
American Legion
Ray Cheeseman
(218) 945-3918

American Legion Auxiliary
Gyda Gullekson
(218) 945-6626
Sandhill Snowcruisers
Josh Gudvangen
(218) 574-2336
Conservation Club
Steve Taylor (218) 945-6552
Les Krogstad (218) 945-6213

Red Hat Ladies

Alcoholics Anonymous

Thursdays 8 PM at St. Joseph's Catholic Church, Fertile

Thursdays 8 PM Duane Knutson Community Center
Medical/Healthcare

Altru Clinic
Mill Street and Main
Fertile, MN 56540
(218) 945-6064
Essentia Health Home Health and Hospice
Fertile Virtual Office
Jamy Fuglseth, RN, CHPN
Stephen Drive
Fertile, MN 56540
(218) 945- 6152
Handi-Van Transport, Inc.
43702 102nd Avenue SW
Fertile, MN 56540
(218) 945-6655
Hanson Chiropractic
306 North Mill Street
Fertile, MN 56540
(218) 945-3220
Prairie Dental Centers PA
222 N. Mill Street
PO Box 533
Fertile, MN 56540
(218) 945-6111
(800)642-7311
Polk County EMS
310 Mill Street
Fertile, MN 56540
(218) 945-6050
(218) 945-3110 (non-emergency)
Poissant Therapy and Fitness
208 Mill Street
Fertile, MN 56540
(218) 945-3409
RiverView Clinic
306 Mill Street
Fertile, MN 56540
(218) 945-6695
Fair Meadow Nursing Home
300 Garfield Avenue SE
Fertile, MN 56540
(218) 945- 6194



Churches
Catholic

St. Joseph's Catholic Church
201 SE Elm Street
Fertile, MN 56540
(218) 945-6649
St. Lawrence Catholic Church
Mentor, MN

Evangelical
Hope Evangelical Free Church
11330 435th Street SE
PO Box 123
Fertile, MN 56540
(218) 945-3677
Kingdom Hall
403 Blaine Street NE
Fertile, MN 56540
(218) 945-6075
Concordia Lutheran
1007 Jefferson Avenue SW
Fertile, MN 56540
(218) 945-6189
Faaberg Lutheran Church
4389 340th Avenue
Fertile, MN 56540
(218) 945-6340
(218) 945-6220 (Parsonage)
First Evanger Lutheran Church
403 Washington Avenue NE
Fertile, MN 56540
(218) 945-3156
Little Norway Lutheran Church
11773 410th SE
Fertile, MN 56540
(218) 945-6637
Resurrection Free Lutheran Church
415 W. 6th Street
Beltrami, MN 56517
(218) 926-5568
Maple Bay Free Lutheran Church
11703 Ash Street SE
Mentor, MN 56736
(218) 574-2929
Maple Lake Lutheran Church
13960 380th Street SE
Mentor, MN 56736
(218) 574-2234
St. John's Lutheran Church
3996 Co. Hwy 1
Fertile, MN 56540
(218) 945-6698
Sundahl Church
Co. Hwy 7
Gary, MN 56545
(218) 945-3426
Trinity Lutheran Church
402 Desota Avenue
Beltrami, MN 56517
(218) 926-5646